---
From The Live Stage To The Live Camera


My name's Jess and I'm a singer-songwriter and I'm kicking off my first ever blog post to share some thoughts on live streaming. I've only had a few experiences doing this, both of which were during the COVID19 pandemic, so I can't pretend to be an expert. But they were significant for me and did cause some reflection on how the experience as a performer is quite different.
It's obviously been a time when musicians and performers have had to become a lot more creative in the way we can share what we do with the outside world and I'd say that online concerts and gigs have definitely become an important way to keep live performance going. But what is it actually like to do a live stream? and will I keep doing it when everything opens up again?
I have to confess that the idea of live streaming was not something I felt particularly suited to, being somebody who, although loves to perform, is also often painfully introverted - a characteristic that can be complicated at times as a performer! But at the same time, I'm not sure I can explain why the idea of getting up on stage in front of a crowd of people seems easier than playing to a 'LIVE' camera.  Maybe it's the instant and visceral reaction you get from a live audience that we thrive on as performers. Or maybe it's just the unknown that's unsettling - the unfamiliarity with doing a live performance in front of a camera and an empty room that somehow seems more daunting.
So, to be honest, I think I'd kind of tried to avoid doing this but at some point decided it was important and necessary, both in finding a way to keep moving forward in a world that feels like it's ground to a halt and also as a way to keep working on what it is to perform live and to maintain that direct connection with people through art.
Real-time sharing the theatre in your living room
My first livestream concert was with the TNT, a local theatre and historic cultural institution here in Nantes, France, where I've been living for the last 6 years. The TNT theatre started a series of artist residencies and livestream concerts at their venue during lockdown as a way to maintain live performance for artists as well as the theatres own connection to its public. Having launched my new EP A Weightless Sound there in 2020, (of course important to mention here ;-) which happened after the first lockdown and before the second. So I was already familiar with the theatre and was definitely excited at the opportunity to play there again.  
This was a bit different though. For my release party, even though it was essentially still during the pandemic, there was an audience in the room, albeit a socially distanced and masked one, so it still involved a very vital human exchange. This time however, only the TNT team were there, who are great! but the silent waving and thumbs up are not quite the same thing. Aside from the preparations of a live concert being essentially the same, (and I have to say an amazing job from the lighting and sound team), on the night of the concert, when the curtains went up,  it was silent, but in a different way. With no faces or applause at the end of a song or even people at the bar talking over everything, I felt myself scrambling a bit to fill the spaces in between songs, something admittedly I already find difficult at times. But more than that, I felt I was trying to connect to something, or rather trying to feel a connection. As I wasn't able to actually see if anyone had tuned in to watch from where I was on stage and couldn't interact with people online, there was something of a vacuum between me and them that was a little unsettling. 
At the same time though, I was on a professional stage with professional sound and lighting and at a really cool local venue, playing to a public that could be anywhere. So how cool is that! I think the way that venues like the TNT contribute to an essential service at a moment where performers and public alike are at a loss of how to compensate for the cultural shutdown. So, although it was kind of weird, I felt also that it was time for me to get over my weirdness and get on with the job!  
The recording studio as a livestreaming platform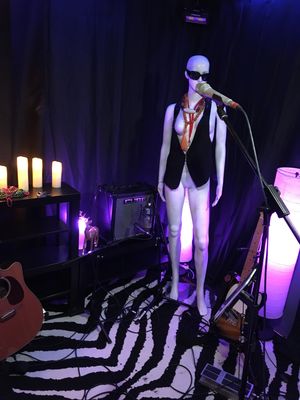 The second time I had the opportunity to do a virtual concert was in March 2021 at Black Lodge Making TV , an independent livestreaming platform in Nantes, created by Yann Guingueno in October 2020. Yann started filming live concerts from his recording studio which is equipped with a live-broadcast audio-visual set-up, ensuring broadcast quality sound and visuels - a luxury already ! And as the concerts are screened simultaneously on Youtube as well as Facebook, fans and friends can watch on their phones, laptop or TV. 
Yann provides a tablette so you can see who is watching while you're performing and so you can interact with fans and answer questions. I think for most people this is really handy. For me though, still a bit challenging.  He gave me a five second count down before going 'LIVE', during which time it was just silent. Then after the five seconds, it was still silent. Oh that's when I start ! My preparations for what I would sing, when I would talk, what I would say in between, all flew out the window. And of course this can happen in any live gig which is why I try to write as much info in bold on the set-list. So when the mind goes blank, I've got a crutch. But in the room, alone, the awareness of the one way direction of view and sound is something to get used to. After all, not being physically in front of an audience, you can't tell how they're reacting to it, if they got up to go get a cup of tea in that song where the energy dropped a bit, if they noticed that you forgot how to play the entire rest of 'that song' you'd been rehearsing for weeks, that you've played a hundred times before so how could you possibly completely forget how to play it now???...
But then, also much like a live gig, our perception as the performer of how the concert is received is often quite different from that of the public watching. Like many artists, I have a tendency to focus on what went wrong in my performance and need to work harder to find that balance between critiquing myself too harshly and appreciating the positive aspects. 
What was really cool again, though, was that I was able to play a live gig to folks watching from Nantes, the US, as well as my sister watching from her couch in the UK, all tuning in to something that, apparently, came across, in terms of visuals and sound, really professionally. I can't say I've often been able to play a concert in such good conditions in terms of sound and visuals that I could share internationally. So I think for this reason, this way of playing live has a really democratising potential, in how artists can reach both their own existing audiences as well as new ones.
So in terms of the experience for a performer, especially a solo performer, I think it really depends on the artist. I have musician friends who have a lot more experience than me doing live online performances and who seem much more comfortable and adept at finding the rhythm between the song they play and the gaps in between. So I'll definitely look to them for tips for the next time! But at the same time I do think it's really a different kind of live performance where maybe we miss that tangible human contact and interaction that is often in big part the reason we do it. 
And there you have it, my first blog ! If you're interested in checking out the live concert, you can see it here: LIVE DU STUDIO - JESS HATTON BROWN.
Hope to see you next time when I'll start delving into my songwriting process.